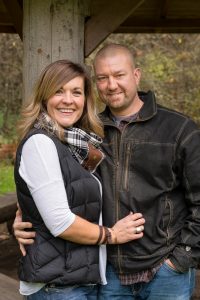 In September 2016 our little family of 6 became the new owners of Molalla Retreat! It's been a fun journey….it all started for us way back in the '90's, when Justin and I were just kids. We met some friends at church, their names were Bob and Judy Loucks. In 2000 the Loucks stepped out in faith and purchased a christian retreat center on the Molalla River. It was fun to see the Loucks take that step and as we stayed in touch we saw how God blessed their faithfulness, turning what was a small private church camp into the now rather far reaching ministry that is Molalla Retreat. We are delighted to take over this work and be a part of how the Lord will continue to bless local churches and organizations through this beautiful place!
We have 4 daughters that you will see running around helping us with the daily camp chores. Often times they will help with food service and our youngest (7) really likes to make new friends with any kids that might be staying onsite. It is a joy to see them serve others!
God has started a great work here and we are so excited to see how He continues to lead our family through this adventure! Thank you for your prayers and support!
-Billie Jean, for the Neely's
Justin, Billie Jean, Gracie, Lizzie, Bekah and Addie